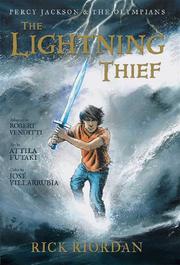 741.5 Rio
The Lightning Thief : the graphic novel
New York : Disney/Hyperion Books, c2010.
[126] p. : col. ill. ; 23 cm.
Graphic novel. Percy and his friends try to find Zeus' stolen property.
Accelerated Reader: Level 3.1 MG / 1.0 Points / 140486.
Lexile: GN 470L
Available
Non-fiction books
1 copy available at Holy Innocents' Lower / Curtis Library
Patron Reviews
Review by Eva Russell *.
super cool!
Review by Michael O'Connor.
awesome book!!! not for first graders.
Review by Kate Wray.
A great book. Where Percy Jackson goes to camp halfblood because of his father, Poseidon. He fights a mintaur and other creatures. A great book! It is also a series.