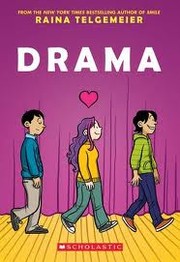 741.5 Tel
Drama
New York : Graphix, c2012.
233 p. : col. ill. ; 21 cm.
Callie rides an emotional roller coaster while serving on the stage crew for a middle school production of Moon over Mississippi as various relationships start and end, and others never quite get going. Graphic novel.
Accelerated Reader: Level 2.3 MG Plus / 1.0 Points / 153879.
Lexile: GN 400L
Available
Mature - 4th or 5th only
2 copies available at Holy Innocents' Lower / Curtis Library
Patron Reviews
Review by Grayson Whitty.
This book is amazing!!!
Review by Taylor Donald *.
drama is inopropriot for young readers
Review by Margaret Reynolds.
This is an amazing book. Callie becomes a director and meets 2 twin boys that are in her play. There is a lot of adventure, suspense, and a touch of romance. Read this book to see how it all unfolds.
Review by Simran Khanna.
Callie likes theater and she has a crush on her friends brother.Read it because it is good!!!!!!!!!!!!!!!!!!!!!!!!!!!!!!!!!!!!!!!!!!!!!!!!!
Review by Taylor Oggs *.
it was a awesome book you should read it
Awards & Honors