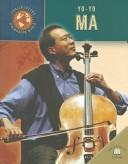 B MA
Yo-Yo Ma
Milwaukee, WI : World Almanac Library, 2004.
48 p. : col. ill., col. map ; 27 cm.
Presents a short biography of celebrated cellist, Yo-Yo Ma from his childhood in Paris, France, his Chinese roots and musical heritage, Harvard education, and entrance into a full-time musical career.
Accelerated Reader: Level 7.3 MG / 2.0 Points / 81259.
Reading Level: 7.5
Available
Biographies
1 copy available at Holy Innocents' Lower / Curtis Library
Search for Related Titles